FEDERAL GM200M PRIMERS PREMIUM GOLD MEDAL SMALL PISTOL MAGNUM MATCH BOX OF 1000 (10 TRAYS OF 100) DESCRIPTION
Gold Medal cartridges are built with the same high-quality primers that have made them the preferred choice of match shooters and hunters across the world. Federal Gold Medal Primers ( Federal GM200M Primers ) are constructed to high standards and made with Federal's patented basic lead styphnate priming mix, which provides the best primer ignition available on the market.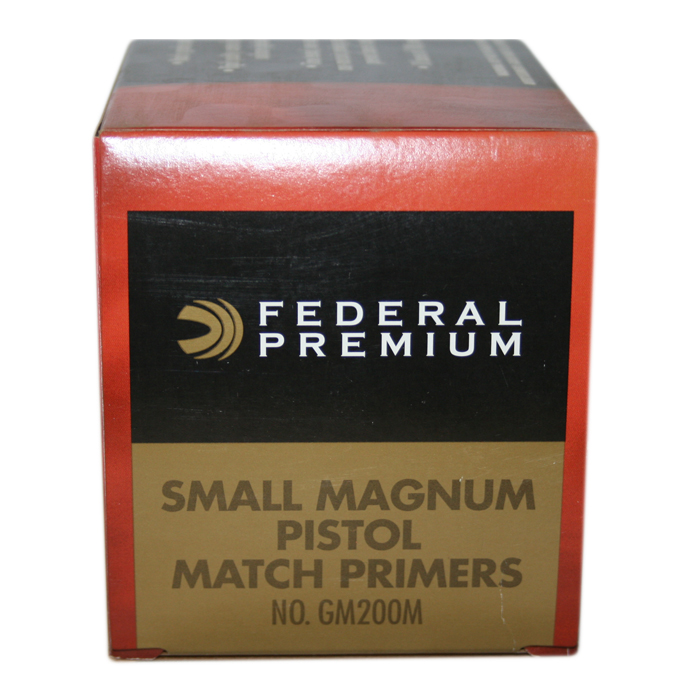 Gold Medal primers ( Federal GM200M Primers ) are built to strict standards, resulting in the same high-quality components and optimal ignition that have made Federal Premium Gold Medal cartridges the preferred choice of match shooters across the world for decades.
Product Features
Industry-leading precision and consistency
Reliable ignition
Built to extremely tight tolerances
Product Specifications
Caliber: .200
Type: Small Magnum Pistol Match
Bullet Style: Small
Package Quantity: 1000
Usage: Reloading
Category : Components
Type : Primer
Size : 200M
Style : Small Magnum Match
Gun Type : Pistol
Quantity : 10 Boxes of 100 Primers
Product Information
| | |
| --- | --- |
| Quantity | |
| Primer Size | |
Primers in stock 2021 and more in stock at Top Firearms Supplies at affordable prices order now and experience super-fast deliveries.